This page is under construction, sorry.
| | |
| --- | --- |
| Back → | |
---
Directions for use
Begin from 1 capsule 3 times a day during or after a meal. The capsule should be washed down with a glass of neutral liquid (water, tea, juice). After approx. 2 - 3 weeks, the dose can be reduced to 1 - 2 capsules once a day, taken in the afternoon or in the evening, after dinner. Do not exceed the recommended daily dose.
People with high body weight (BMI ≥ 30) can double the daily amount of the product. BMI – body mass index. BMI is calculated as: body weight [in kilograms] divided by height [in meters] squared. BMI is a popular indicator of whether your body weight is correct, but there may be slight variations in some individual situations.
Calculating BMI Using the English System
Formula: weight (lb) / [height (in)]2 x 703
When using English measurements, ounces (oz) and fractions must be changed to decimal values. Then, calculate BMI by dividing weight in pounds (lb) by height in inches (in) squared and multiplying by a conversion factor of 703.
When using a handheld calculator, if your calculator has a square function, divide weight (lb) by height (in) squared, multiply by 703, and round to one decimal place.
If your calculator does not have a square function, divide weight by height twice, as shown in the calculation above, multiply by 703, and round to one decimal place. (Note that this formula is printed on the CDC Clinical Growth Charts, and it will be the calculation used in this module).
---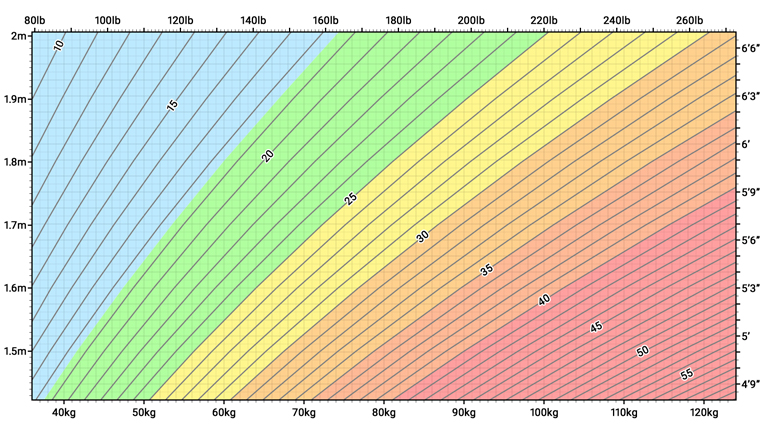 ---
Link to → calculate your body mass index

National Heart, Lung and Blood Institute
Contraindications
Do not use if you are allergic to any of the ingredients of the product.
Remarks
Pregnant and breastfeeding women should consult their doctor before use.
Do not use after the expiry date shown on the box and if the blister with capsules is broken.
A dietary supplement cannot be used as a substitute for a varied diet. A varied, balanced diet and a healthy lifestyle are essential for your physical and mental health.
Storage
Store in the original packaging, out of reach of small children, at room temperature, ie within 15 - 25 ° C. Protect against direct exposure to the sun.
Packages available
Packs of 60 and 120 capsules in cardboard boxes, in PVC / Alu blisters.